Description
Small size, big features.
The Micro Power Module is an easy-to-use DC/DC regulator that takes input from virtually any DC power source and outputs both a low noise 5V and a 3.3V regulated voltage. The on-board switching regulator allows for input voltages as low as 3V while still providing both its outputs. A secondary 3.3V LDO is powered off the 5V output and can be shut down independently. This module is useful in single cell lithium polymer applications requiring 5V as well as other battery operated applications where the voltages may drop too low for LDOs (linear regulators) to function.
The regulator works by using a SEPIC topology allowing the input voltage to be above or below the target output voltage. If the input voltage is higher than the output target (5V), then it works as a step-down regulator. Conversely, if the input is lower than the output target, it operates as a boost regulator. It transitions between these modes of operation seamlessly allowing for continuous and stable power regulation to your device.
Features:
Wide Input Voltage: 3V to 18V
Max Current: 1A stand alone, 1.5A peak (requires thermal considerations)
Small Footprint: 1" x 1"
Shutdown Pins for the 5V and 3.3V channels*
Reverse Battery Protection
Over Current Protection
Thermal Limiting
* The 3.3V LDO is powered from the 5V channel so if the primary regulator (5V) is shut-off, the LDO (3.3V) will also turn off.
Simple regulation.
As the Micro Power Module doesn't require any external capacitors or other parts, it's very easy to use. Just plug it in and turn on the power.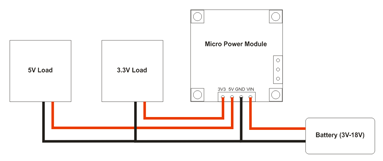 Downloads: